We may earn money or products from the companies mentioned in this post.
Lunch meat doesn't only need to be used in sandwiches.  You can easily make the lunch meat the focus of your lunch by adding cream cheese and other fillings directly onto the meat.   You can pair them with fruit, cheese or veggies to make lunch a little more fun too.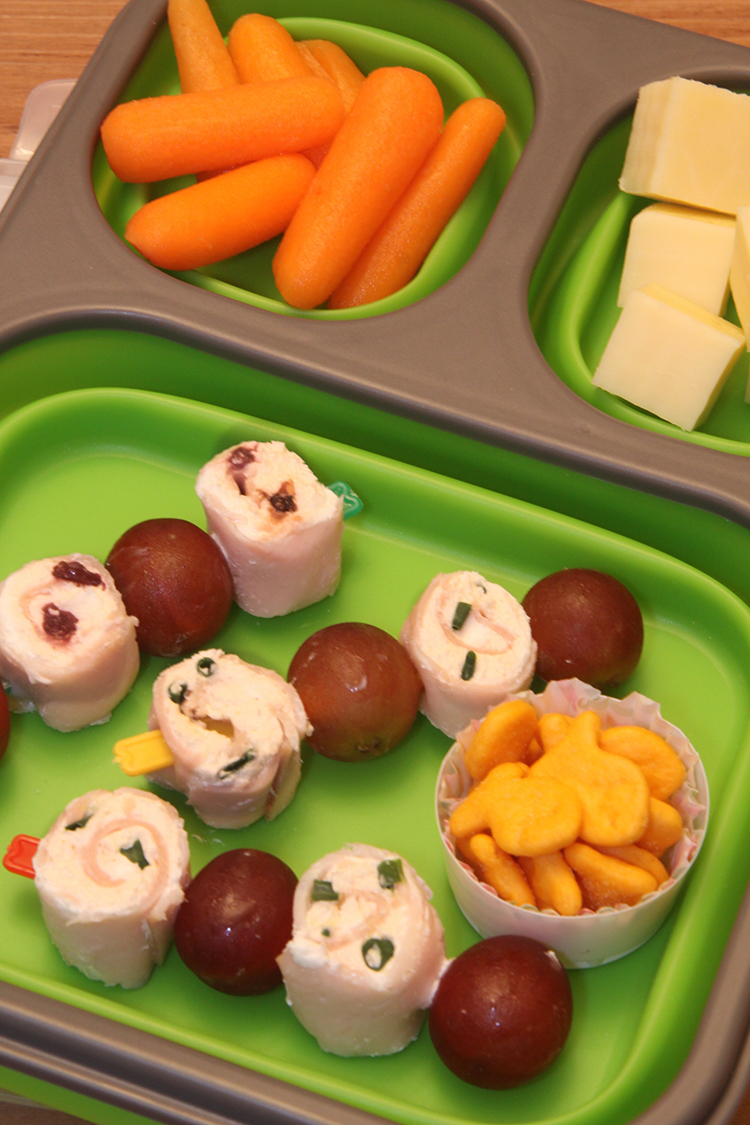 Lunch meat is a convenient protein option that is perfect for lunch or snacks.   These Turkey and Cream Cheese Pinwheels are a great choice for either lunch or mid-day snack.
I made these yummy pinwheels with Hillshire Farm® Naturals™Slow Roasted Turkey Breast.   This premium lunch meat is all-natural with no artificial ingredients or preservatives and no added nitrates or nitrites.   All you get is the delicious flavor of the turkey.
Pick up the following ingredients to make these fun and easy Turkey and Cream Cheese Pinwheels:
1 Package Hillshire Farm® Naturals™ Slow Roasted Turkey Breast
1 container of whipped cream cheese
1 package of fresh chives (chopped)
1/8 cup of Dried Cranberries (chopped in small bits)
Lay out the turkey and spread cream cheese over each piece.
On top of the cream cheese sprinkle either chives or dried cranberries (or any other topping you desire).   Get creative!
Roll up the turkey and slice them so they are about 3/4 inch thick.
Onto a long toothpick add a Turkey & Cream Cheese Pinwheel and then a grape.   Alternate between the two until your toothpick is full.
You can also get creative with what you choose to pair with the Turkey & Cream Cheese Pinwheels, you could also add cherry tomatoes, cheese cubes or olives onto the toothpicks.   Your options are endless!
These Turkey & Cream Cheese Pinwheels would make a fun addition to your kids lunch.   If you are like me you are always looking for new and different ideas to make your kids lunch exciting and different.  To complete their lunch pair the pinwheels with some carrot sticks, cheese cubes, and crackers.   When you are done you've got a healthy lunch you can feel good about serving your kids.
Stop by Target to pick up Hillshire Farm® Naturals™ lunch meat and save 30% with the Target Cartwheel offer.  You will find the Hillshire Farm lunch meat in the following varieties:
Hillshire Farm® Naturals™ Smoked Turkey
Hillshire Farm® Naturals™ Slow Roasted Turkey Breast
Hillshire Farm® Naturals™ Black Forest Ham
Hillshire Farm® Naturals™ Honey Roasted Ham
I'd love to hear what creative ideas you have for serving lunch meat at your house.  Do you have a favorite sandwich or snack?