We may earn money or products from the companies mentioned in this post.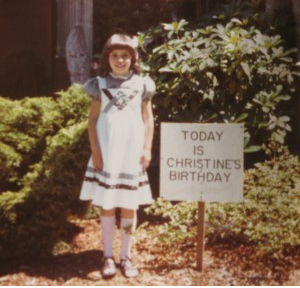 Do you have memories of your Dad that bring a smile to your face?   One of my fondest memories as a child had to do with the "Today is Christine's Birthday" sign my Dad created for me.  Each year on my birthday, the sign would go in our front yard and I would have my picture taken by my sign. It made me feel special.
When I  became a teenager, I became a little less enthusiastic about my birthday sign, but even those years created important memories that I look back on with fondness.   I remember the year I turned 16 the thought of the  "Today is Christine's Birthday"sign placed in our yard made me feel embarrassed, so I decided I would hide the sign before my 16th birthday so it couldn't be displayed in the yard to announce to the whole neighborhood that it was my birthday.   I can still recall feeling a little guilty watching my dad looking everywhere for that sign.
As it turns out, I didn't hide it well enough, because he eventually found it.  I pleaded with him, "Please Dad! Don't put it out in the front yard".  In what I momentarily thought was a very tender gesture, my dad agreed that he wouldn't put the birthday sign in the yard… instead he marched up and down the street holding the sign and shouting "Today is Christine's Birthday"!
As mortified as I was as a teenager, I am so glad my Dad took the time to make that sign and share with everyone that it was his daughter's birthday. As I reflect on those birthdays today, I recognize, even more than I did back then, how much my dad loved me and how much he wanted to show the world that he was proud to have me as his daughter.
My hope is that my own children have fond memories of their dad and the love he has for them.    He has definitely brought smiles to their faces with his fun carefree attitude.
Has your Dad made you smile?   How about a contest to make his smile.  Oral-B at Target is hosting the Power Dad's Smile Everyday Sweepstakes with over $1,000 in prizes.   To enter, just share a photo of you and your Dad on Twitter or Instagram using #oralbsweeps before June 15.   You could win the Father's Day Power Bundle which includes the Oral-B Black ProfessionalCare 1000 Rechargeable Toothbrush, the Braun Series 7 760 shaver and a $250 Target GiftCard!   Best gift EVER!!
Here is more information on the Oral-B and Braun products if you are looking for a great gift for Father's Day.
Oral-B is the #1 dentist-recommended toothbrush brand worldwide
The Oral-B Black ProfessionalCare 1000 removes up to 5X more plaque along the gumline vs. a regular manual toothbrush
The Oral-B Black ProfessionalCare 1000 Limited Edition Available at Target includes a travel case and a Bonus Deep Sweep brush head
Tough on hair-smooth on skin
Features improved Triple Action FreeFoil™ to deliver a great shave
Combines great Braun design with high Braun quality
Braun Series 7 760
Includes the most innovative features for Braun's most advanced shave
Features contour adaptability for improved skin contact
Shaving technology for a close and comfortable shave
Cleansing technology for a hygienic and fresh shave every day
I was selected for this opportunity as a member of Clever Girls Collective and the content and opinions expressed here are all my own.