We may earn money or products from the companies mentioned in this post.
YES!!   It sounds like Target's Halloween clearance was marked down to 90% off today.    I received confirmation from Rachel that the markdown did happen at her Bedford, NH location and from Megan at her PA location.     Have fun shopping and make you post or email me your photos!
Here are some hidden deals that were found both in the Halloween section and in their respective departments. Keep an eye out for these and make sure you use the scanners if you see something that was previously in the Halloween section.
Watch for Sinful Colors clear nail polish (Thanks Surviving as a Mom)
This Mystery Moonshine color is also 90% off (Thanks Kim)
You will want to keep an eye out for these character hoodies.     Erin picked these up for only $1.50.   Score!!
Watch for e.l.f. mascara and eyeliner for only $.20. (Thanks Elizabeth)
Check the pet section for Boots & Barkley items. (Thanks Nicky)
Check for these Halloween Hot Wheels (Thanks Sarah!)
These 4 packs of Up & Up Facial Tissue are part of the clearance. These regularly are $4.99 so at 90% off they will only cost you $.49.   Also watch for 2-packs of Puffs tissue with fall leaves on them.
This plastic cutlery is also part of the clearance, these retail for $2.99. At 90% off they are only $.29.
I was thrilled to find these lunch bags with orange stripes on them. Lunch bags are one of the things I rarely find on sale. These retail for $1.99 so they should ring up at only $.19.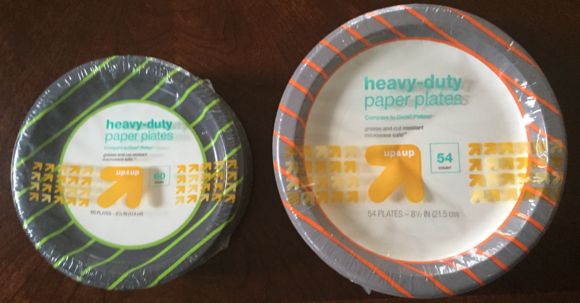 Make sure you check the paper plates for these ones with bright green and orange stripes around the sides. These are part of the Halloween clearance also. These retail for $2.99, so at 90% off they cost you only $.29.
Keep an eye out for these LEGO City sets and Halloween Hexbugs. Thanks Sarah!
Nicky let me know she found these cute Carter's Halloween themed 2-pack pj's mixed in with the regular pj's.
We love to hear about the Halloween clearance deals you are finding, you can share your Target clearance deals the following ways: