We may earn money or products from the companies mentioned in this post.
It's Easter clearance time at Target!  I know you all love to shop the Target holiday clearance deals. I love that you can find items up to 90% off. The great part about the holiday clearance is that many times the markdowns will include items that are not holiday specific. For instance, with the Easter clearance you know you will find baskets, plastic eggs and Easter decor, but you can also find home goods, small toys and more.  I love to shop the holiday clearance as an inexpensive way to put together gifts for friends and family.
Here is when the markdowns happened last year to give us a decent idea of when the markdowns may take place this year. Keep in mind that since Easter was earlier this year, they may not be in much of a rush to clear things out as they did last year.
50% off (30% off food) – 1 day after Easter
70% off (50% off food) – 3-4 days after Easter
90% off (70% off food) – 6-7 days after Easter
Items that are part of the holiday/seasonal clearance WILL NOT have clearance stickers on them, these items are marked down automatically via a computer.   So, always use the scanners to see what the price is and to determine whether or not the item is part of the holiday clearance.  When they are part of they holiday clearance, the prices will probably end in a 9 or a 0 (instead of 8 for regular inventory clearance).
Here are some photos of items that should be part of the Easter clearance that you may or may not know about. Some of these may become what we consider "hidden" deals, meaning they may be in their respective departments instead of back with the Easter clearance. Happy shopping! As usual, we LOVE to see photos of your clearance deals.   There are items from the Magnolia Hearth & Hand line that are a part of the Easter clearance and I have a separate post featuring those clearance items.
The pretty floral kitchen line should be part of the Easter clearance this year.   This line is blue, yellow and green.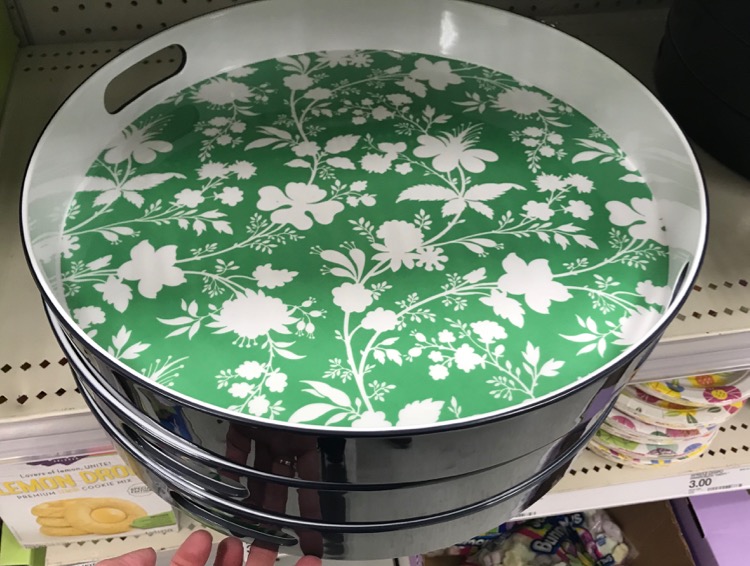 The pretty glass line in pastel blue, aqua, pink and green should also be on clearance.
There is also a marble kitchen line with a few items.  I love these marble and wood cheese board (200-09-2152)
The pretty floral line that had kitchen and home decor items should be marked down too.
Candles in a pretty blush color with a scalloped edge.
Every holiday seems to bring lip balm.  Some of these items may end up back in the beauty department on an end cap.
There are always a couple bagged LEGO sets.  These would be great for stocking stuffers or birthday gift bags.  (Friends = 204-00-0215, City = 204-00-0218)
You should find tons of items from the Dollar Spot as part of the Easter clearance.
The spring cleaning supplies should be part of the markdown, you can see a ton of items from this line in this post.
The word art is part of the Easter clearance, so you can make one of your own Reverse Canvas Word Art.
We'd love to see your Easter clearance, please share any of the following ways: