We may earn money or products from the companies mentioned in this post.
Here are a bunch of photos of some clearance deals from our readers! Please keep the pictures coming, we love seeing them.
First up, just a few people reported finding 90% off summer items at their stores.  I am guessing the majority of us should see the markdown happen tomorrow, Saturday, July 15th.
Check out all the great stuff Gaby scored at 90% off.
I'm not 100% certain that the lipbalm is part of the clearance, but it is totally work scanning to check and see.   (Thanks for the photo Theresa).  Suezanne scored some great things at 90% off too.   I haven't seen those headphones posted before, so watch for those.
Sandra got some of the Crayola items including this Sidewalk Chalk for only $.99.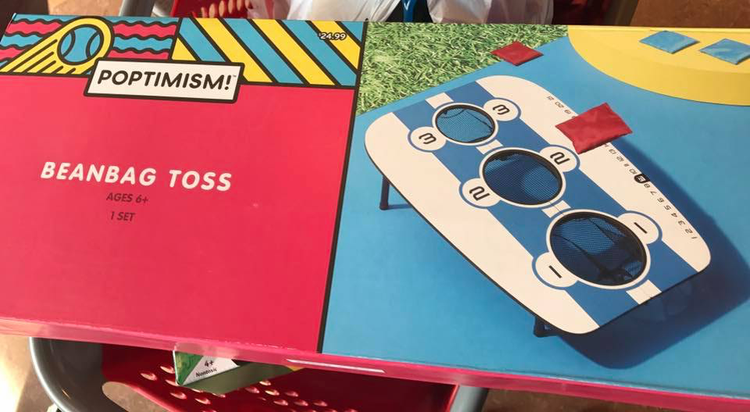 These Beanbag Toss game was only $2.49.
Tara hit the jackpot and found her store fully stocked on sunblock at 90% off.
Wow!!  Chalonda hit the jack pot and picked up this Gridiron BBQ grill for 70% off!  It was priced at only $47.98 (reg $159.99).
Kristin paid just under  $25 for all of these cute decor items that she found at 70% off.
Holly just couldn't say no to this Star Wars walkie talkie set she found on clearance, and Chelsea picked up this cute Tsum Tsum toy for 70% off. Chelsea added a fun Battat Market fruit toy to her cart which was 70% off you can check out below.
Stacy had an awesome clearance shopping trip and picked up $135 worth of items for around $50.
Nora brought home these really cool lights which were priced at just $3 a piece.  She also found a really cool dice game for 70% off (pictures below).
I love these Cat & Jack shoes Chelsea found. These were both 70% off.
Speaking of Cat & Jack, Kim found a pack of Cat & Jack underwear for girls on clearance.
Erin got a really nice mix of clearance stuff and diapers for around $135 which would have retailed for around $299 before tax!
Here is a look at Melissa 70% off summer clearance finds.  She found lights, pool floats, pillows, totes & more.
Christy did great and picked up lots of great items including storage bags, fun sport toys for kids & more.
It has been so much fun looking at all of the super clearance deals you have been finding.  Here are the following ways you can share your photos with us: