We may earn money or products from the companies mentioned in this post.
It has been so much fun seeing all of the awesome 90% off Valentine clearance deals you all have found.  We thought it wold be fun to share even more photos of clearance deals with you!
Here is a fun video Jessica from The Mom Creative made showing all of the 90% off Valentines items she found at her store.  Check it out!   Her stores always seems to have so much left.   Totally jealous!
Kyle scored so many great items including lots of decorations, pillows, candles, table runners, place mats, gifts for Easter baskets & more. The best deal is the Nutella was only $.48 after a $1.50 coupon!
Oh my!   How cute are these bags Candice picked up?  These were priced at only $.79 per bag.
Angela paid only $5.70 for 19 character beanie hats which she plans to donate!   I love this!
Reader "Let's do this" scored all of these items for under $10!
Asami found a bunch of LEGO Batman for only $.39 per bag.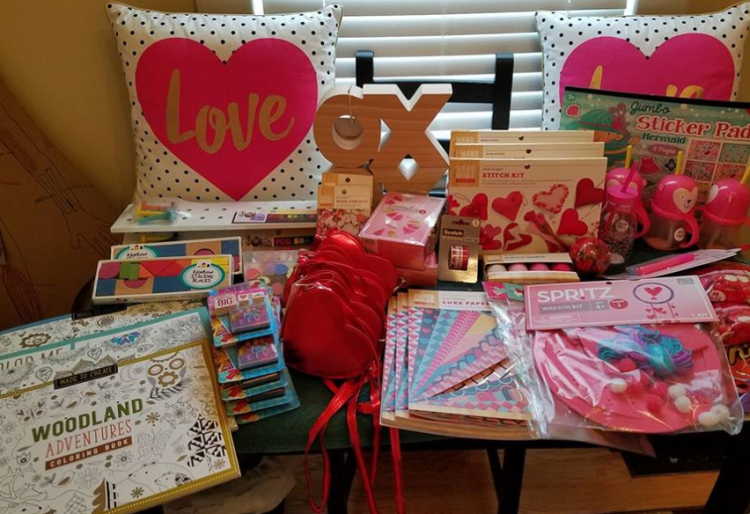 Laura found so many cute items, pillows, art kits, party decorations and so much more.   She also picked up some apparel for girls you can check out below:
Here are the 90% off Valentine items Ana Maria brought home.
Julie went back for round 2 and was really happy with what she found.   I am totally jealous, I would have loved to find those travel mugs, they are so pretty.
Megan was thrilled to find this cute bear which was priced at only $1.99.
All of these items Suezanne found were $.10, $.30, $.39 or $.49 each!  The bottles are too cute!
Lisa scored all of this for only $12.46!
Rachel was very pleased with everything she found at 90% off.   I love those magnetic boards!
All of the toys and clothes were in the regular section at Megan's store.  The toys will make excellent Easter basket fillers!
Jen's Mother-in-law had a successful Valentine clearance shopping trip and picked up all of these great items for $18.  I really like the stuffed puppy dogs with the hearts!
Jes grabbed 8 pieces of girls' clothing for only $10.42.
We can't thank you all enough for sharing your fantastic Valentine clearance deals with us. If you have any more photos you wish to share here are few of the ways you can submit your photos: