We may earn money or products from the companies mentioned in this post.
Today we are some readers Target shopping trips and clearance finds! There were a few people that found a nice selection of 70% off toys at their stores, this should give us a sneak peek of what many of us may find next week (if they go down to 70% off). We really enjoy seeing all the terrific deals you all are able to find at your Target stores.  Please continue to share with us!
Anna's HUGE 70% off toy haul included Disney Planes, La La Loopsy dolls, Doc McStuffins & more
Anna was on a roll and found even more toys at 70% off.  The best part is, all of these toys will go in operation Christmas child shoe boxes!  Awesome!
Kilty got a nice surprise when these unmarked LEGO toys rang up at 70% off. That is an incredible discount for LEGOs.
Catherine did great, she found My Little Pony, Mike Knight, Spider-man and more at 70%.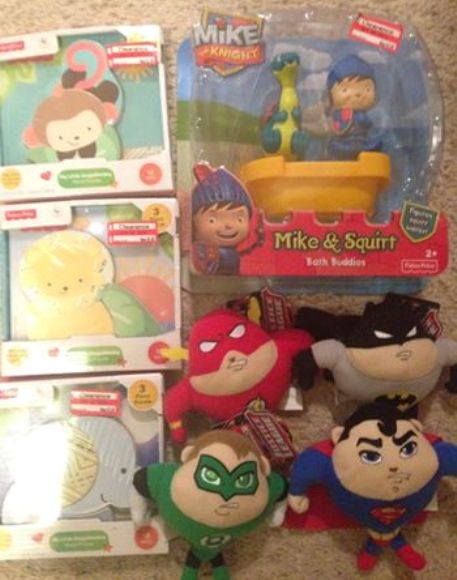 Carrie was thrilled with her 50-70% off toy finds. Justice League figures were $1.78, Mike the Knight bath squirt toy were $2.98 and the Fisher Price Puzzles were $2.48.
Here is what Stacey scooped up at her store, these were both marked down to 70% off.
Jessica grabbed a Leapster GS for 70% off, a doll and Monster High password journal for 50% off.
Katy got super lucky and found these Disney Fairies 70% off.
This Teenage Mutant Ninga Turtles Dojo Ninja Star Blaster toy was 70% off at Meaghan's store.
Meaghan also scooped up a super cute Sofia the First doll at 70% off.
Meaghan was on a roll and scored some nice Disney Planes toys at 50% off.
Tina spotted this super cool Laser Pegs toy marked down to 70% off.
Check out the nice 70% off finds Chantal brought home. Eddie Bauer car seat and a couple of nice frames.
Rebecca paid only $60 for all of these items which included toys at 70% off. Great job!
Kimberly was thrilled to find shoes for the whole family at 70% off.
We love to hear what clearance deals you have been finding, you can share your Target clearance deals the following ways: