We may earn money or products from the companies mentioned in this post.
This post is sponsored by Premier Protein. All thoughts and opinions are my own.
We've recently changed our eating habits to include more protein in our diets.  Protein helps to improve your focus, maintain your weight, and give your metabolism a boost.
The Premier Protein shakes have an amazing 30 grams of protein in each shake so they are a great option with our new meal plan.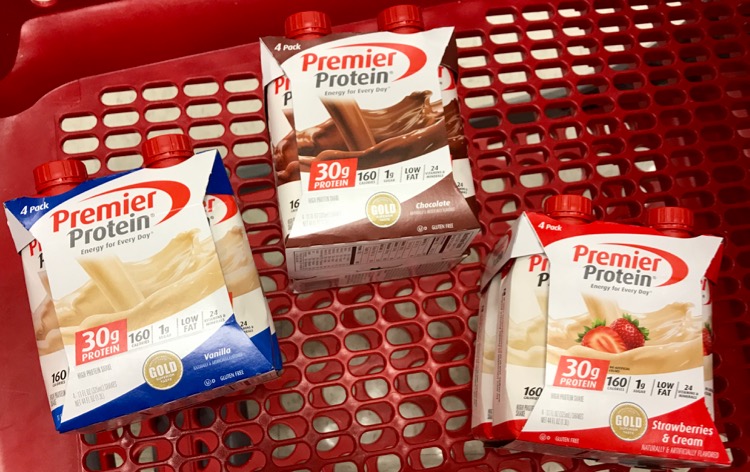 You can now pick up Premier Protein shakes at your local Target store.  I found the Premier Protein Shakes in the following flavors at my Target:
Chocolate
Vanilla
Strawberries & Cream
You may also want to check for Bananas and Cream too.   My favorite flavor is the vanilla, it is one of the better protein shakes I have tried.
In addition to the Premier Protein shakes being packed with protein, they are also low in calories.  You get all of these nutritional benefits in each drink:
30 grams of protein, including all of the essential amino acids.
24 vitamins and minerals.
An excellent source of calcium.
Just 160 calories.
Low in fat and only one gram of sugar.
The protein shakes are a great way to start your day or they make for a great afternoon pick-me-up.   The chocolate flavor tastes good on it's own, but I also like to use the Premier Protein shakes as a base for a smoothie.   The vanilla one also works really well for a smoothie because you can switch it up by adding whatever fruits you want.  I love berries in mine.  You can find lots of tasty recipes on the Premier Protein website to get you thinking.
In addition to eating healthier we are also adding more exercise to our day.  These new changes have us feeling great and even losing some weight.    The Premier Protein shake are also a great solution for those busy days when you are running from errand to errand.
You will find thePremier Protein shakes in 4-packs and possibly even 12-packs at your local Target store.  The Premier Protein Shakes are located in one of the health aisles, usually near the pharmacy.   If your are looking for ways to add extra protein to your diet I recommend giving the Premier Protein Shakes a try.