We may earn money or products from the companies mentioned in this post.
The summer markdowns in the toy department have begun! I am sharing some photos of the items that have recently been marked down to 30% off. These are the toys that we should see go 70% off at the end of July. If you aren't familiar with the 70% off toy clearance that happens in July (and January), you can read these posts to get informed:
July 2013 Target Clearance Toys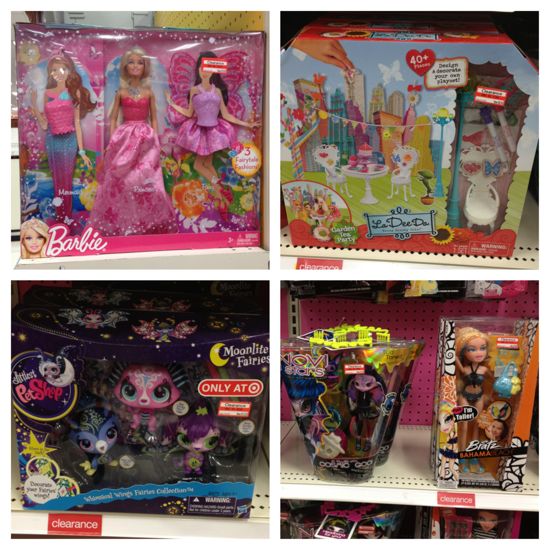 There are some dolls on clearance, like Barbie, Bratz, and more.   I saw some Littlest Pet Shop packs and some La Dee Da sets (which I have never heard of).
Quite a few boy toys on clearance like
Iron Man 3 toys
Star Wars fighter Pods
BeyWheelsz
Marvel Action Figures
Star Wars Action Figures
+ more
I spotted a few games on clearance that would work for an older crowd the Blokus on the Go and Twister Dance.   I also saw a couple Discovery Kids sets on clearance.  I didn't see too many Fisher-Price items on clearance, but it may be too early to tell.   We may see a few more items go on clearance as the weeks go by.
Sadly, I haven't seen any LEGO sets marked down yet, but there were several Mega Bloks sets on clearance.
A nice variety of toys for the younger ones. There always seems to be some Thomas the Train, and this time is no exception. My store had quite a few Baby Alive on clearance.
There were a couple of games for the younger crowd too. I didn't see too many Leap Frog items on clearance this time around, just a few software items.
This should give you an idea of some of the toys we may find when the clearance goes 70% off towards the end of July. Last year the 70% off clearance happened for most stores on Thursday, July 26th 2012. If it happens the same time this year it should happen on Thursday, July 25th, but there is no way to know for sure. Also, there are some stores that do their markdowns on Wednesdays and even Fridays.
Get excited people! It's coming!