We may earn money or products from the companies mentioned in this post.
I love finding unfinished wood pieces in Target's Dollar Spot. Not only will wood last for years, but there are so many ways to customize it. This time, I'm keeping it simple with an easy technique for coloring these classic wooden eggs.
You'll need:
wooden eggs ($3 from Bullseye's Playground)
The eggs come smoothly sanded, but I did have one egg with a line of printing so I used sand paper to remove it.
I wanted the wood grain to show through instead of painting the eggs with a thick, solid layer of paint. Did you know that you can get the look of a colored wood stain by diluting acrylic paint with water? Let me show you how!
Add one part paint to two parts water in the bottom of a disposable cup. It doesn't have to be exact so just eyeball it. You can always add more water to thin it out or more paint to thicken it up. Mix it up with a wood craft stick.
Take your foam brush and dip it into your paint mixture. Remove excess water by pressing it against the inside of the cup. Paint the wooden egg then set it aside to dry.
Repeat the process for every color you want to use on your wooden eggs.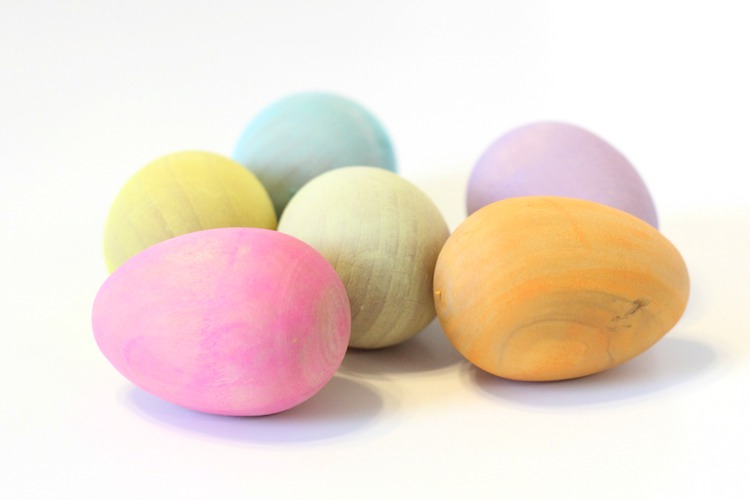 The paint gives the wooden eggs and almost chalky look that I really like. If you feel the need, you could seal them with an acrylic spray sealer after letting them dry for a few days.
Won't these colorful wooden eggs be pretty to display every Easter?
Analisa is a mom and avid DIYer. Along with her family, she will travel anywhere just to say she's been. She writes about creating, parenthood, and her family's adventures at Parental Perspective. She'd love to meet you so feel free to visit her on Instagram or Facebook and say hello!