We may earn money or products from the companies mentioned in this post.
This post is sponsored by Kellogg's.   All thoughts and opinions are my own.
The carefree days of summer are gone and now the kids are heading back to school. An easy morning routine is needed to keep the kids on track so they can be fed, dressed and out the door with lunch and homework in hand.   I'm sharing our routine for serving breakfast and packing lunches in the morning.   We like to get creative with some of our favorite Kellogg's cereals and make packing lunches a breeze by prepping lunches ahead of time.   By doing these two things our mornings run more smoothly.   In addition to a smooth morning routine, I can save on Kellogg's and Keebler brands with Cartwheel at Target through 9/10.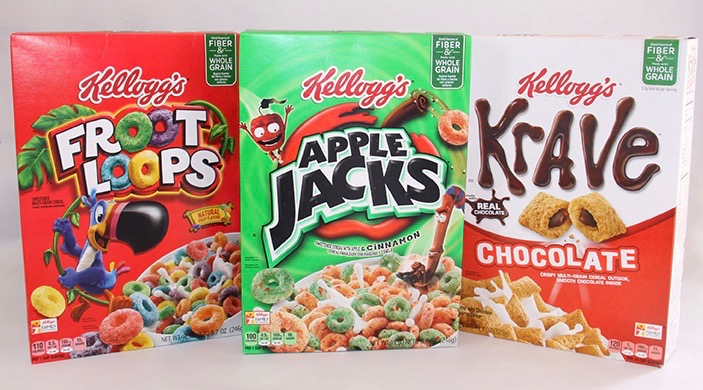 We love cereal at our house!  While cereal is great in a bowl on it's own we love to come up with fun ways to serve cereal.  Here are three different ways we serve some of our favorite Kellogg's cereals at our house.


We love to add Froot Loops to vanilla yogurt.   I personally think any cereal is a great addition to yogurt, but the Froot Loops are excellent because you get the combination of the fruity flavors and the creamy vanilla yogurt .  The kids love the fun rainbow colors too!
Adding fruit to our cereal is another fun twist on breakfast.  Some of our favorites are strawberries, raspberries, peaches and bananas.  Krave happens to be one of my kids favorite cereals.   The addition of bananas to the crunchy and chocolate cereal makes for a perfect flavor combination.


Some mornings we end up rushing out the door and are in need of breakfast that is good on-the-go.   Muffins make a good breakfast that you can take with you.   I simply bake the muffins the night before when I know we have a busy morning, like on the days my daughter has a student council meeting or my son need to be at his coding club.   These Apple Jacks Muffins are a huge hit at our house.
Apple Jacks Muffins
1 1/2 cups flour
1 tsp baking powder
1/2 tsp baking soda
1/4 tsp salt
1/2 tsp cinnamon
4 TBSP melted butter
1 cup brown sugar
2 eggs
1/2 cup milk
1 cup chopped apple
Topping;
1/4 cup brown sugar
2 TBSP flour
1/2 tsp cinnamon
2 TBSP melted butter
1/2 cup Apple Jacks
Combine dry ingredients together (flour, baking powder, baking soda, cinnamon, and salt) and set aside.  Whisk together melted butter, sugar and egg.  Gradually add in dry ingredients and milk until it is all mixed together.  Fold in apples and add to greased muffin pan.
To mix topping, add brown sugar, flour, cinnamon and melted butter until combined.  Add to top off each muffin and sprinkle Kellogg's Apple Jacks over the top of each muffin.  Bake at 375 F for 20-25 minutes.
After the kids have eaten their breakfast we can tackle packing lunches.   Packing lunches is now a simple task at our house because we prep the lunches and snacks on Sunday.  The kids just need to grab their lunch, fruit, drink and favorite Keebler snacks and put them all in a bag.
Here is a little more about how this works.  We prepare single servings of items if they aren't already in individual serving sizes.  For instance we prep Keebler cookies by adding 2 cookies into plastic bags.   We do the same if we have a box of Cheez-It or Club crackers.
We put all the snack items in a bin so they are easy to grab when it's time to pack lunches in the morning.
The snack bin is stored in our pantry right next to the lunch bags.
We keep the drinks and lunch meal in the fridge (this week is mini cheese and pepperoni pizzas).
After breakfast my kids get dressed, brush their teeth and then pack their lunch for that day.   This system makes it super easy for them to grab everything they need, their meal, drink, fruit and snacks (Pringles and Keebler cookies for today).   My kids can usually pack their lunch in a minute or two.  I love this system!  By having breakfast ideas and lunches pre-packed it really streamlines our morning routines and my kids make it to the bus on time.
Target has a ton of great Cartwheel offers on your favorite Kellogg's & Keebler brands.   Here is a peek at just a few of the Kellogg's & Keebler Cartwheel offers, make sure you check them all out!
Save 20% on Kellogg's Krave cereal
Save 20% on Kellogg's Eggo Breakfast Sandwiches
Save 10% on Kellogg's Froot Loops
Save 10% on Keebler Club Crackers
Save 10% on Keebler Graham Snacks
+ many more
In addition to the savings with Cartwheel make sure you also check out Kellogg's Family Rewards for printable coupons.  Here are a couple examples of savings on Kellogg's cereals:
Krave Cereal $2.99
Save 20% with Cartwheel by Target (-$.60) expires 9/10
$.50/1 printable coupon
Final Price = $1.89 each
Froot Loops Cereal $2.50  ~ Buy 2
Save 10% with Cartwheel by Target (-$.50) expires 9/10
$1/2 printable coupon
Final Price = $1.75 each