We may earn money or products from the companies mentioned in this post.
This is a sponsored post written by me on behalf of Brita for IZEA. All opinions are 100% mine.
It's once again time to get ready for back-to-school.  Do you have a child who is heading off to college?  There are so many things you need to buy for them before they venture out on their own. They need bedding, towels, books, clothing and more.
I'm not quite sure how it happened, but I am now the mother of three college age boys.  Time has flown by so quickly!  I can still remember dropping each one of them off for their first day of kindergarten.   When they all head back to school in the fall each one of them will be a junior.   Jordan (22), my oldest worked and went to the local community college to get his AA degree. Both Austin (20) and Levi (18) did Running Start at our local community college during high school so they graduated with their AA degree and their diploma at the age of 18.  Austin just returned from serving a church mission and is ready to get back to college.  Levi will head to college after his church mission is completed in two years.  Levi already knows that he wants to study optometry when he heads back to school.  Which will come in handy, because if you didn't notice all 3 of my boys wear glasses (technically my husband and child number 5 wear glasses too).
While you are at Target doing all the shopping for college necessities like bedding and other supplies, I recommend picking up a Brita Space Saver Pitcher.  Through September 5th, you can save 10% with the Target Cartwheel App.
Why a Brita Space Saver Pitcher?  You can start your college kids off on the right foot by helping them stay healthy and hydrated. With the Brita pitcher filtering water has never been easier and it is a great way to start healthy habits that will last throughout the school year.  Brita is the perfect college essential, right along with books and bedding because when compared to tap water, Brita water is better for you.  We tend to drink more water when it tastes better, and Brita makes water better.  Students need to keep hydrated!  Your student should drink 8×8, which means 8 ounces of Brita water, 8 times a day.
Some of the great features of the Brita Space Saver pitcher are:
NEW + IMPROVED Advanced quick change filter include 2x faster to change (than previous filter) with no pre-soak or black flecks
NEW filter indicator counts pours
NEW + IMPROVED filter fit and locking lid for spill free pouring.
BPA-free Easy-fill lid flips open for faster re-filling.
Capacity 6 (8 oz. glasses)
Fits perfectly in a full-size fridge or mini-fridge
Filters chlorine taste and odor, zinc, and harmful contaminants copper, mercury and cadmium.*substances reduced may not be in all users' water
It's perfect for their dorm room because the space saving design means it can fit inside a full-size or mini-size fridge.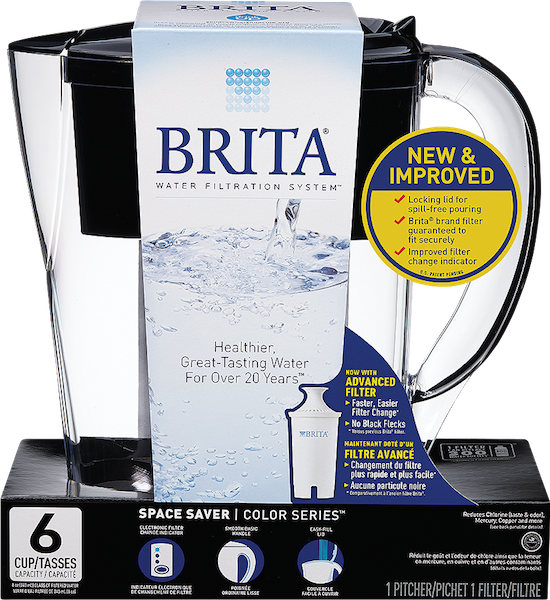 Add the Brita Space Saver Pitcher,Available at Target, to your shopping list next time and don't forget you can save 10% with the Target Cartwheel App.  To make it easy on your student you can sign up for the Brita filters at Target.com with their subscribe & save option.  You will save 5% and the filters can be sent directly to your student at school!
 I'd love to hear from you college moms out there, what are some of your favorite tips for sending your kids back to school?