We may earn money or products from the companies mentioned in this post.
This post is sponsored by Maty's Healthy Products. All personal thoughts and opinion are my own.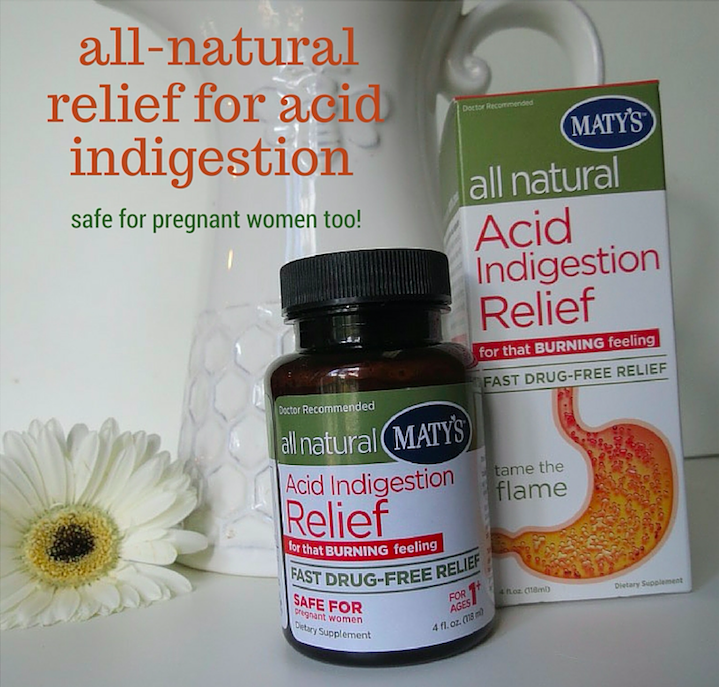 Are you aware that 85-90% of acid reflux is caused by not enough acid in your stomach?    I didn't know that!   I always thought the problem was caused by too much acid in your stomach.   Turns out stomach acid is good for you!   The stomach acid helps to kill off pathogens and bad microbes that cause sickness and possibly even cancer.
So, what do you do when the annoying acid indigestion is bothering you?    You know, when you get that burning feeling in your chest and throat.   I hate that feeling!   I've recently found an all natural relief for acid indigestion made by the folks at Maty's Healthy Products.
Maty's Acid Indigestion Relief promotes healthy acid levels in your digestive tract while enhancing your body's natural healing power.    Maty's will give you all natural drug-free relief.   You will be happy to know the the list of ingredients are things you know and recognize like:
Apple Cider Vinegar  which promotes healthy acid levels.
Sea Salt helps to naturally neutralize toxins.
Ginger aids in digestion and stomach activity.
Clove improves digestion and provides antimicrobial properties.
Turmeric aids in digestion by helping to release bile.
Ascorbic & Citric Acid helps control the acid balance.
Honey which soothes and coats the throat and provides healthful antioxidants.
Maty's Acid Indigestion Relief  is a liquid that goes down easy and has a sweet honey taste.   It actually soothes my throat and tames the burning feeling as it goes down.
It's also good to note that Maty's is gluten free, dairy free, wheat free, and alcohol free.   There are no artificial preservatives, color additives or sweeteners.   It's all natural which means it's safe even for pregnant women.
50% of pregnant women suffer from heartburn symptoms.     I have been pregnant 5 times and my heartburn and acid indigestion  seemed to get worse with each child.   There aren't too many acid relief products that can claim they are safe for pregnant women.   Have you read some of the side effects on the OTC medicine?  You may end up with side effects like:  Headache, Abdominal Pain, Nausea, Diarrhea, or Muscle Cramps,   Let's be honest, pregnancy is hard enough without all those side effects.
I wish had known about Maty's when when I was pregnant.  Maty's Acid Indigestion Relief has no side effects or drug interactions because it's made with whole-food ingredients.
I have great news for you, my Target loving friends!   Maty's all natural Acid Indigestion Relief can now be found at Target in the heartburn/acid indigestion aisle on the bottom shelf.    You can also purchase Maty's Acid Indigestion Relief online at Target.com.
To stay up-to-date make sure you follow Maty's Healthy Products on the following social media outlets: