We may earn money or products from the companies mentioned in this post.
Check out these readers Target Easter 70-90% clearance finds!  We really enjoy seeing what great deals you all are able to score at your Target stores.   Please feel free to continue to share with us!
Brittany  found this awesome washable sidewalk chalk paint set at 90% off.   Haven't seen this one yet!
Kitty really lucked out finding these 2 LEGO sets at 90% off
Ava hit Target as soon as they opened and she scored so many great things.
Ava found all of these items in the regular baby clothing section, they were not with the Easter items, so make sure to check for items with a bunny on the tag.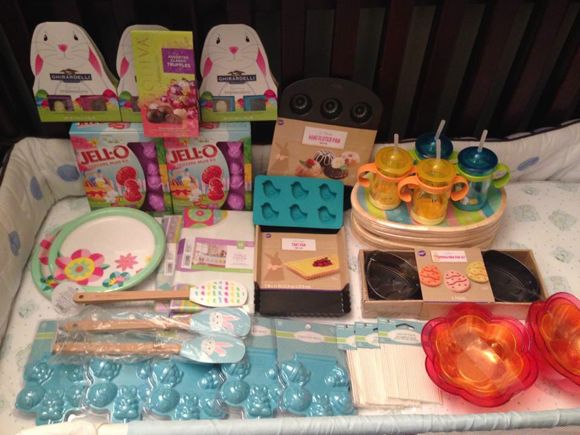 Here is even more of Ava's 90% off loot!
Her is Elsa 90% off shopping trip.   (Cool name Elsa!)
Terisa did some coupons shopping along with her 90% Easter shopping.
Palmer found all this at 90% off (minus the food items).
Gretchen  found a ton of great deals at 90%, including the dog treats.    If you have a dog, make sure to check for those!
Her is Olivia's 90% off shopping trip.    I'm jealous of that LEGO!
Ok, I think Francine totally hit the jackpot with those ceramic canisters at 90% off.
Monica bought the following at 70% off.
Rachael  got all of these items at 70% off.
We would love to hear what clearance deals you have been finding, you can share your Target clearance deals the following ways: